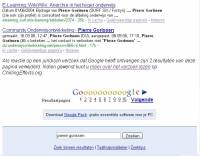 Voerde ik vanochtend nietsvermoedend een ego-search uit op Google, zie ik opeens deze tekst staan onder aan de pagina met zoekresultaten: "Als reactie op een juridisch verzoek dat Google heeft ontvangen zijn 2 resultaten van deze pagina verwijderd. Indien gewenst kunt u meer over het verzoek lezen op ChillingEffects.org."
Op die betreffende website staat niet veel meer info: "Dutch defamation complaint to Google. The notice is not available."
Ik heb defamation opgezocht:
"In law, defamation is the communication of a statement that makes a false claim, expressly stated or implied to be factual, that may harm the reputation of an individual, business, product, group, government or nation."

(bron)
en vraag me nu dus wel af welke pagina's, waar mijn naam blijkbaar in voor komt nu verwijderd zijn op basis hiervan én of ik daarbij slachtoffer/onderwerp of dader/veroorzaker was.
Met andere woorden: is er een probleem voor me opgelost of moet ik me juist zorgen gaan maken?