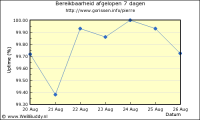 "Sorry about the network problems. As has been documented on DreamHost status we have been dealing with network issues lately. We are on top of this problem right now and we're working on getting things back up for you. We are in continued contact with Cisco support and we have outstanding tickets with them regarding these issues."

(bron)
Het is maar goed dat ik gewoon een trek heb in het wéér verplaatsen van de hele handel hier. Maar augustus is toch wel een erg dramatische maand aan het worden wat betreft uptime. Zelfs als die uptime volgens de metingen van Webbuddy.nl 99.791% was vorige week (deze week is het niet echt beter) is het sinds begin dit jaar pas 4 keer voor gekomen dat ik een weekrapportage voor Dreamhost kreeg met 100% uptime. En dat is niet goed genoeg.
Nou ja, het lijkt een beetje het thema van vandaag te zijn vrees ik.