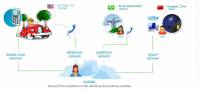 Nou weet ik dat het gevaarlijk is om te zeggen "altijd bereikbaar" na vorige week, maar ik bedoel "altijd bereikbaar als Skype in de lucht is én je contactpersoon online is in Skype".
Stel…
Een aantal van de contactpersonen die ik via Skype kan bereiken zitten in het buitenland. Lang niet altijd op dezelfde plek en soms heb ik hun directe telefoonnummer niet eens bij de hand omdat het nou eenmaal veel gemakkelijker is om ze op deze manier te bereiken.
Maar wat nou als ik ze wil bereiken terwijl ik zelf géén toegang tot Skype heb? Bijvoorbeeld omdat mijn laptop gestolen is of omdat ik in de auto of trein zit en geen internettoegang ter beschikking heb. Dan kan ik ze nu toch bereiken dankzij Mobivox.
Het kost niet meer dan het bellen naar een telefoonnummer in Nederland, en dat kan afhankelijk van je abonnement zelfs gratis zijn want Mobivox gebruikt "gewone" inbelnummers. Lees verder….