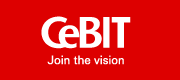 Nog één laatste afrondend bericht over de CeBIT 2007. Nog lang niet over alles geschreven, niets verteld over de World Cyber Games, de voorzet touchscreens, de "dichtbij" projector van NEC, heel grote TV's en TV's die met elk soort signaal goed beeld geven, landen die ik er niet verwacht had, de WifiWall van Conceptronics of hoe slecht ik kon autorijden. En dan heb ik het al helemaal niet gehad over het grote aantal hallen waar ik niet eens in geweest ben. De CeBIT bezoeken doe je niet om alles te zien wat er te zien is.
Je zult er weinig producten vinden die specifiek op onderwijs gericht zijn. Maar des temeer producten waarvan je toepassingsmogelijkheden in het onderwijs kunt zien of die onderwerp voor je onderwijs zullen worden.
En los van de inhoud van de CeBIT was het natuurlijk ook gewoon leuk. Leuk om Hans nu ook "in het echt" te ontmoeten. Interessant om te horen hoe Tulip tegenwoordig in elkaar zit, wat de verschillende ondernemingen binnen het concern doen. En natuurlijk leuk om eindelijk eens een keer boven in een stand te mogen komen.

Zo, nu moet ik gaan stoppen, ik moet de data van mijn Compaq nc6220 nog backuppen. Die mag ik morgen omruilen voor een Compaq nc6320. Geen tablet, geen handschriftherkenning. Maar wel een Intel Centrino Core 2 Duo Processor. Dat maakt ook wel weer heel wat goed.