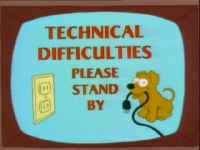 Het is een vraag die mensen bezig blijft houden: hoe betrouwbaar moet je hostingprovider zijn, en hoe betrouwbaar is ie (of denk je dat je hostingprovider is) ? De downtijd bij Dreamhost leidt nog steeds links en rechts tot berichten. Op CogDogBlog schrijft Alan Levine naar aanleiding van de problemen over hoe relatief ervaringen zijn met hostingproviders. Op Rogue Amoeba wordt uitgelegd hoe zij hun hosting, een combinatie van goedkope Dreamhost-hosting en duurdere hosting, geregeld hebben.
Het artikel bevat vier basisregels:
#1: You get what you pay for.
#2: Everyone loves their current host until the server is down.
#3: Have A Contingency Plan
#4: Run your software company, not your web server.
Toch vind ik hun gespreide setup, met de heavy downloadbestanden bij de ene hostingprovider, de site zelf op een andere plek, deels automatische synchronisatie en scripts die het up zijn van de ene site in de gaten houden en anders overschakelen naar de ander, nou toch niet echt iets waar ik aan zou willen beginnen.
Het hebben van een online mirror van een site zou André Manssen (sterkte André!) geholpen hebben bij het weer snel in de lucht krijgen van zijn site na een servercrash. Dat was bij een andere hostingprovider overigens. Maar zeg nou zelf, hoe ver wil je als privépersoon met een website gaan? Hoe ver moet je inmiddels wel niet gaan? Ik ga zometeen maar weer eens een download trekken van de 17GB aan bestanden die Dreamhost inmiddels voor me bijhoudt, geeft me toch een wat veiliger gevoel.