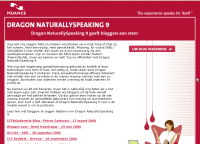 "Wie nog niet regelmatig spraakherkenning gebruikt en twijfelt of deze technologie voor hem of haar wel nuttig is, moet zeker eens Dragon NaturallySpeaking 9 proberen. Deze spraakherkenningssoftware betekent niet minder dan een revolutie in de manier waarop mensen met een pc omgaan. Bovendien kan iedereen ermee overweg en haalt iedereen er profijt uit. Nu kunnen wij dit wel beweren, maar het is natuurlijk nog beter als u het met eigen ogen ziet. Daarom hebben wij bloggers uit de hele wereld gevraagd om het pakket te testen. Ga dus gerust eens kijken op de site waarop experts en gemiddelde gebruikers hun mening en commentaren geven. Dan kunt u zelf uitmaken of Dragon NaturallySpeaking 9 voor u de moeite waard is om te proberen."

(bron)
De titel van de pagina waar dit citaat uit komt is "Dragon NaturallySpeaking geeft bloggers een stem". En bovenaan het lijstje van bloggers die ze vermelden staat een link naar dit bericht.
Nou is dat bericht op mijn weblog zeker geen reclameboodschap, aangezien ik toen na een uur er mee testen (niet op mijn computer overigens en niet met versie 9) zoals ik schreef er al genoeg van had. Maar voor de duidelijkheid nog even: ik heb nooit een verzoek gekregen om Dragon NaturallySpeaking te evalueren. Als het bedrijf Nuance zo netjes was geweest me een exemplaar van de software te sturen voor gebruik (nee, geen 30-dagen versie, daar doe ik het niet voor) dan had ik het best willen uitproberen, maar dat is dus niet het geval.
Dat ze mij nu gebruiken voor hun reclame-uitingen vind ik dan dus ook niet netjes.
[update] Kijk Microsoft weet tenminste hoe dit wél moet.
[update] Zie dit bericht voor het vervolg en dit bericht voor het slot van dit verhaal.