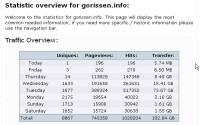 "Our network has been under a major DDoS attack earlier today [Pierre: zaterdag 8/12]. This attack was of an altitude that we never experienced before and at its peek consuming multiple gigabits. Because of the scale of the attack the protection systems was not able to fully protect our systems. Even though all servers were running normally some sites may have appeared to be down for a period of up to two hours. We started working on this mater with our carrier as soon as the problem was identified to be a DDoS attack (within five minutes).
Most customers may not have noticed or been affected by this problem but still we feel it was best to inform you about the issue.
We sincerely apologize for the inconvenience."
Ze hebben het er maar druk mee bij Servage. De afbeelding is een screenshot van het dataverkeer en aantal hits bij Servage voor dit weblog. De onderste "Saturday" is vorige week zaterdag, de bovenste regel "Today" uiteraard vandaag een week later dus. Je ziet de piek op dinsdag met meer dan 500.000 hits en ruim 73GB dataverkeer. En je ziet dat er nu alleen nog wat restverkeer is veroorzaakt door mijzelf met één unieke bezoeker vandaag.
Het account loopt nog door tot september 2007, dus als je in die tijd een keer op zoek bent naar tijdelijke opslag van een heleboel data (maximaal 250GB zegt de reclame) en niet meer dan 70GB dataverkeer én 400.000 hits op een dag veroorzaakt dan hoor ik het wel.