"Blogs are Tamagotchi. If you don't feed them, they die. If you don't clear up their crap – comment spam, for example – they die. They're more fun when there are other bloggers to play with, just like the new IR connected Tamagotchi are allegedly more fun because your little virtual pet can now interact with other little virtual pets."

(bron)
Met die uitspraak begint Suw Charman haar vergelijking.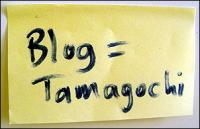 Tijdens de derde BlogWalk in Wenen schreef ze het op een post-it en het is natuurlijk mooi voer voor discussie: Martin Roell is het er mee eens en legt (in het Duits) uit waarom. Heiko vind dat maar onzin en legt uit "Why blogs are no Tamagotchis". Sencer geeft (deels in het Duits en deels in het Engels) een afweging van voor- en tegenargumenten.
En ikzelf? Tja, ik verbaasde me eigenlijk over de vergelijking. Ik heb nooit een Tamagotchi gehad en het was inderdaad nogal een hype. Om weblogs nou een hype te noemen….Maar er zullen vast en zeker vergelijkingen te trekken zijn voor gedeeltelijke overeenkomsten en sommige lessen zijn vergelijkbaar.