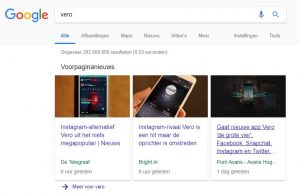 Jeetje. Ook bij Twitter was ik er laat bij, mijn account is van mei 2007, toen bestond het bedrijf al een jaar en waren al heel wat Nederlanders lid vanwege de aandacht voor het bedrijf tijdens SXSW een maand of twee eerder.
Wat dat betreft deed ik het bij YouTub beter, mijn eerste filmpje daar is van juni 2005 terwijl het bedrijf in april van dat jaar zelf pas het eerste officiële filmpje online plaatste.
Maar voor Vero, "a social network for anyone who loves anything enough to share it – and wants control over who they share it with. Just like we do in real life." lijkt het alweer te laat. Die werd in korte tijd (de app blijkt al wat langer te bestaan) heel populair (blijkbaar) maar nu gebruikers wat langer nadenken over het bedrijf, de oprichter, de ontwikkelaars, het blijkbaar haast volledig afwezig zijn van info over wat er met je data gebeurt, willen ze er blijkbaar alweer vanaf. En dat schijnt dan weer moeilijk(er) te zijn.
Natuurlijk, de belofte dat de eerste miljoen gebruikers voor altijd gratis gebruik zullen kunnen maken van de dienst is ongetwijfeld een reden voor veel mensen om te zeggen "baat het niet, dan schaadt het niet". Nou heb ik 1x eerder ooit bij het aanmelden voor LinkedIn, per ongeluk, niet uitgevinkt dat de omgeving toegang mocht hebben tot mijn contactpersonen. En dat heb ik geweten. Want die kregen allemaal een uitnodiging om ook een LinkedIn-account aan te maken. Het gegeven dat Vero dat ook vraagt en daar een tamelijk vaag "we doen er niet meer mee dan er voor zorgen dat je veilig bent en een goede beleving hebt", stelt me niet gerust.
In order to sign up, you're asked to provide a name, email address, and phone number. The app then requests access to your contacts. "Vero only collects the data we believe is necessary to provide users with a great experience and to ensure the security of their accounts," the company explains, which doesn't say much. (bron)
Mij zul je er dus niet vinden. Natuurlijk ga ik de omgeving wel nog een beetje volgen om te zien of hij echt nou al weer zo snel implodeert als dat hij blijkbaar groeide de afgelopen dagen.