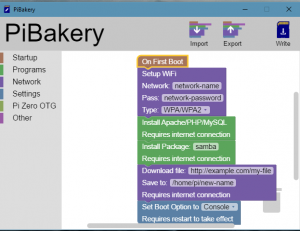 Stel, je bent 17 jaar, neemt je Raspberry Pi wel vaker mee naar plekken waar er wel internetverbinding is maar die je RPi natuurlijk niet kent. Dan kun je natuurlijk gewoon een monitor meenemen om de RPi op aan te sluiten en dan de instellingen aan te passen, of op een andere manier een seriële interface tot stand brengen.
Of je maakt een tooltje waarmee je op je laptop (of Macbook) snel even de instellingen op de (micro-)SD kaart waar de RPi op draait kunt aanpassen. Dat is dan op zich weer niet zó eenvoudig, want in Windows zie je alleen de boot-partitie en daar kun je de WiFi-instellingen niet aanpassen.
En als je dan toch bezig bent, dan is het wellicht net zo handig om het tooltje zó te maken dat je hem ook kunt gebruiken om een nieuwe setup van een RPi eenvoudiger te maken. Door er voor te zorgen dat ook dan meteen het netwerk ingesteld wordt, software en applicaties (zoals Apache en MySQL) die je toch nodig hebt meteen de eerste keer geïnstalleerd worden en er meteen ook voor gezorgd wordt dat de VNC server op de RPi bij elke keer opnieuw opstarten gestart wordt.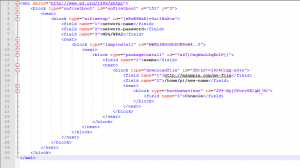 En als je dan helemaal goed bezig bent, dan maak je dat geheel open source, uitbreidbaar met nieuwe modules, de instellingen eenvoudig te exporteren naar XML-formaat, verzin je een handige en overzichtelijke interface die gebruik maakt van Blockly. O, en had ik al gezegd dat David Ferguson pas 17 is? Wauw!
Ik heb het nog niet vaak genoeg gebruikt om te ontdekken of er wellicht eigenaardigheden optreden bij het draaien van de software, maar ik weet in ieder geval dat ik mijn volgende RPi image(s) hiermee ga samenstellen. Scheelt heel wat werk achteraf. Natuurlijk, er kunnen nog een paar dingen handiger: zo is de enige WiFi setting die je nu kunt toevoegen eentje die gebruik maakt van DHCP. Ik gebruik voor mijn headless RPi's zelf altijd een vast IP-adres. Dat kan ik via PiBakery via een omweg ook wel regelen, maar ja, omwegen maken de tijdswinst weer kleiner.
(Getipt door Raspberry Pi)