Google heeft tijdens Google I/O 2016 de Cloud Vision API beschikbaar gesteld. Met behulp van deze online API kun je eenvoudig beeldherkenning toevoegen aan je eigen applicaties / devices zónder dat je zelf de benodigde rekencapaciteit beschikbaar hoeft te hebben.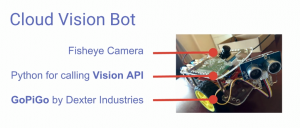 Bovenstaand filmpje laat zien hoe je de API gebruikt vanuit een Raspberry Pi (vermomd in een GoPiGo robot). De API is niet gratis, maar voor kleinschalig gebruik (tot 1.000 units per maand) kun je er zonder te betalen gebruik van maken. Functionaliteiten die beschikbaar zijn:
Label Detection
Detect broad sets of categories within an image, ranging from modes of transportation to animals.
Explicit Content Detection
Detect explicit content like adult content or violent content within an image.
Logo Detection
Detect popular product logos within an image.
Landmark Detection
Detect popular natural and man-made structures within an image.
Optical Character Recognition
Detect and extract text within an image, with support for a broad range of languages, along with support for automatic language identification.
Face Detection
Detect multiple faces within an image, along with the associated key facial attributes like emotional state or wearing headwear.  Facial Recognition is not supported.
Image Attributes
Detect general attributes of the image, such as dominant color.
Integrated REST API
Access via REST API to request one or more annotation types per image. Images can be uploaded in the request or integrated with Google Cloud Storage.
Wil je de uitgebreidere versie van de toelichting en demonstratie zien, hieronder staat de video van tijdens I/O 2016
De demo ziet er mooi uit, ondanks de ietwat problematische start van de robot en het af en toe wat rommelige omschakelen. In de video komt ook de Speech API met de spraakherkenning van Google aan bod. Na 22 minuten werkt de demo met de robot dan eindelijk toch nog. Nou ja, een beetje dan, de beeldherkenning slaat een beetje op hol op het einde. 🙂