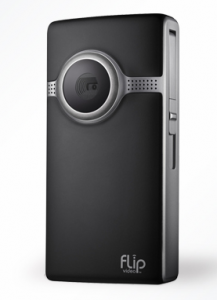 Bij SURFSPOT.nl kun je de Flip Ultra HD (Zwart) NL nog gewoon kopen voor 179,75 euro, maar waarschijnlijk niet voor lang meer. Want Cisco maakte vandaag bekend dat ze met de populaire lijn compacte videocamera's gaan stoppen.
Cisco kocht het bedrijf dat de Flip maakt in 2009 op voor 600 miljoen dollar, maar blijkbaar is het nu tot de conclusie gekomen dat het de concurrentie in het goedkope segment niet aan wil of kan. Niet zo gek natuurlijk als je bedenkt dat de Samsung Galaxy S II die binnenkort beschikbaar komt over een acht megapixel camera beschikt en de mogelijkheid om te filmen in 1080p High Definition. En zelfs de iPhone 4 kan 720p video schieten (net als de Flip HD).
Gelukkig voor mediatheken en scholen die hun studenten graag een niet al te dure compacte videocamera ter beschikking willen stellen zijn er nog een aantal alternatieven zoals de Kodak Zi8 (incl. microfooningang, full HD, verwisselbare accu en verwisselbare SD-kaartjes), een van de andere compacte Kodak videocamera's of de Zoom Q3 camera die het echter met 640×480 video moet doen (niet echt bruikbaar meer dus).
Jammer, maar helaas. Zo gaat dat vaker met producten die de eerste in hun soort zijn.