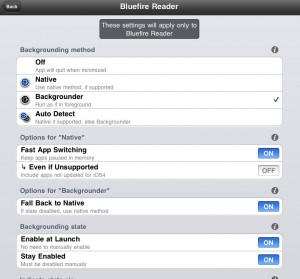 Dit is een bericht dat dient als reminder voor mezelf (voor wat betreft de workaround) en is wellicht handig voor anderen die de oplossing ook nog niet gevonden hadden.
Het is echter een probleem dat alleen optreedt als je je iPhone of iPad van een jailbreak hebt voorzien en gebruik maakt van de Bluefire Reader voor het lezen van elektronische boeken met en zonder DRM. Sinds een tijdje kan het namelijk voorkomen dat de reader prima opstart, zonder problemen werkt, maar bij het afsluiten ervan (of het naar een andere applicatie overschakelen) opeens een tijd lang 'bevriest' (freezes).
Nogmaal, dit probleem lijkt alleen voor te komen bij iPhone en iPads die van een jailbreak voorzien zijn, de exacte verklaring/oorzaak is onbekend. Maar gelukkig is er een workaround.

Ga naar Cydia, zoek naar "Backgrounder" en installeer deze applicatie.
Start Backgrounder en kijk bij "Global" of de Background Method op "Native" staat.
Klik op Back en ga naar "Overrides"
Klik op de Add knop en voeg de Bluefire reader toe
Klik op de naam van de applicatie om de settings aan te passen.
Verander de "Backgrounding method" in ofwel "Backgrounder"  of "Off", maar zeker niet naar "Native"!
Klik op Back
Klik nogmaals op Back
Klik nu op de Home knop om de applicatie af te sluiten; je springboard zal nu resetten.
Als het goed is moet deze oplossing het "freezen" verhelpen. Bij mij werkte het gelukkig meteen.
(getipt door Bluefire Reader FAQ)