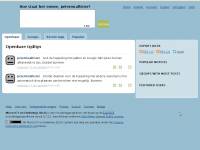 "Think about it this way — do you know who wrote Apache or PHP? Do any of them have the power to deliver so much flow to an installation of their software? Imho, that's exactly the relationship Twitter should have with its users. Or the phone company and users of phones — they shouldn't jump into a conversation and say (for example) 'We know someone really cool you would probably like to talk to. We're connecting you to them now'."

(bron)
Dave Winer zegt vaak verstandige dingen. Het zijn niet altijd de zaken die mensen graag horen, en ook nu is zeker niet iedereen het met hem eens als hij zegt dat de wijze waarop Twitter nu werkt niet is zoals het te handhaven is.
En met de mega-groei die de dienst op het moment doormaakt is het terecht om er kanttekeningen bij te plaatsen. Dat microblogging als dienst aan het doorbreken is, dat is wel duidelijk. Maar of we die dienst aan één bedrijf willen overlaten is minder duidelijk.
Het is de discussie die rond virtuele werelden ook speelde (en speelt) en het is iets wat we met websites en e-mail ook niet doen en willen.
Een belangrijke voorwaarden voor het bewust kunnen maken van de keuze is de beschikbaarheid van de benodigde software/tools.
En dan heb ik het dus niet over alternatieven zoals Yammer, maar over tools die je zelf kunt hosten en beheren.
Een van de open source alternatieven dat hiervoor beschikbaar is, is Laconica, een andere optie is de code van Jaiku, de dienst die door Google opgekocht werd, niet verder ontwikkeld zal worden, maar wel als open source beschikbaar gesteld wordt.
Ik heb Laconica gedownload en redelijk snel aan de praat gekregen op een Dreamhost server. Maar de meer geavanceerde features zoals de SMS-koppeling, de Jabber-koppeling én de koppeling met Twitter (zodat berichten ook als Tweets verschijnen) vergen een eigen server waar je een deamon op kunt installeren.
Gemakkelijk is het dus nog zeker niet. Maar wel iets om in de gaten te houden. Dit soort tools kunnen een redelijk snelle ontwikkeling door maken en wie weet zijn ze over een paar maanden volwassen genoeg om ook door een relatieve leek ingezet te worden.
En dan wordt Twitteren echt microbloggen.