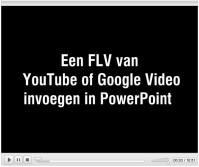 In deze derde screencast over Powerpoint laat ik zien hoe je een aantal beperkingen van Powerpoint op het gebied van de soorten video en audio die je kunt gebruiken kunt omzeilen. Standaard kan Powerpoint namelijk geen MP3-bestanden afspelen in een dia en je kunt er ook niet zomaar een video die je van YouTube of Google video gedownload hebt in Flash Video-formaat in gebruiken. Maar, gisteren heb je kunnen zien hoe je een SWF kunt invoeren in Powerpoint. En hoewel Powerpoint zelf niet direct MP3's of FLV's kan afspelen kun je wel, net als in een pagina op een weblog, een afspeler invoegen die dat doet. Ik heb wat langer nodig dan de vorige twee keren om het uit te leggen, maar wilde het nu ook weer stap voor stap laten zien.
Je kunt de screencast hier online bekijken (Flash nodig) en natuurlijk ook downloaden:

WMV-versie 640×480 (10 minuten en 51 seconden)

iPod-versie (10 minuten en 51 seconden)
[update] De WMV-versie kun je ook online streaming bekijken. Dat is hetzelfde WMV-bestand als je kunt downloaden. Ik heb de screencast ook bij Google Video geplaatst (conversie is matig).
Nu dit toch een serie over Powerpoint aan het worden is, wil ik er in ieder geval nog één aan toevoegen. Ik heb namelijk in voorgaande screencasts steeds verwezen naar het toevoegen van geluiden en video. Maar dat gaat als je niet oplet vaak mis in Powerpoint 2003. Want als je dat niet goed doet, werken de video's niet meer na kopiëren van de Powerpoint. Hoe je dat oplost leg ik de volgende keer uit.