Ik ben weer twee dagen weg, deze keer naar Birmingham voor een JISC/SURF-bijeenkomst waarbij ik er vooral zit om over repositories te praten.
Voor vertrek nog een overleg gehad met Gerard en Sybilla over de workshop van a.s. donderdag.

Het overleg vond weer via Click to Meet plaats en dit keer (voor het eerst) met drie webcams. De beeldkwaliteit was prima, geluid ook nog steeds. Beter dan bij de test met Ineen. Ook hier moet ik nog even uitzoeken of het wellicht ligt aan de combinatie van codecs die Click to Meet gebruikt voor de videoverbinding.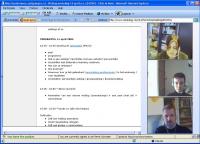 Hoe dan ook een zinvolle vergadering en eentje die zonder ondersteuning van zo'n tool gewoon veel meer tijd gekost zou hebben. Sybilla zat in Sittard, ik in Deurne en Gerard (denk ik) vandaag in Eindhoven. De winst aan reistijd was dus groot. En als de beeldverbinding goed genoeg is, voegt het ook duidelijk iets toe aan alleen een geluidsverbinding zoals je bij een telefonische vergadering hebt.