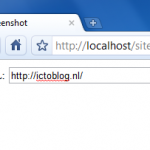 Soms lijkt iets niet te kunnen (of in ieder geval niet gratis) en blijkt het achteraf heel erg eenvoudig te zijn. Zo ben ik vorige week bezig geweest aan een script dat in de browser tamelijk complexe tabellen produceert. De exacte inhoud en betekenis daarvan doet er niet zo toe, de tabellen zijn opgemaakt in HTML. Daarnaast maakte mijn script op basis van dezelfde data een grafiek die gebruikt maakt van JQuery. Ziet er ook heel mooi uit. In de browser.
Maar wilde die tabellen en grafieken ook in rapportages kunnen opnemen, bijvoorbeeld in een Word-document of een PDF. Nu zijn er wel scripts om PDF's te maken vanuit PHP (dat is waar ik de server-kant van de scripts in schrijf), maar dan moest ik ze nogmaals opbouwen in een andere syntax (namelijk van de component die PDF's kon genereren). En daar kwam bij dat dat dan niet voor de JQuery grafiek zou lukken.
Nu kon ik natuurlijk de pagina's printen, maar dat vond ik teveel werk (het gaat om in totaal zo'n 75 verschillende rapportages nu al en dan dus steeds een tabel en grafiek). Het moest automatisch kunnen. Mijn voordeel is daarbij wel dat het gaat om een prototype dat alleen op mijn eigen Windows-laptop of computer thuis hoeft te kunnen functioneren.