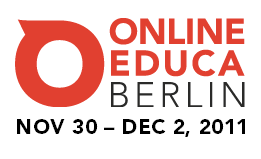 Ik zat er anderhalf uur vanaf in Hamburg en de Winterschool en Online Educa Berlijn sloten exact op elkaar aan, dus ik had zó kunnen doorreizen. Maar ik heb altijd al een haat-liefde verhouding gehad met Online Educa Berlijn. Bij Wilfred Rubens ligt die verhouding (zo te lezen) meer aan de positieve kant. Hij was er (ook) dit jaar weer en schreef er een uitgebreide samenvattende blogpost over. Het zijn zó veel punten dat ik die hier niet ga overnemen of in zijn geheel samenvatten, dat kun je beter bij Wilfred lezen.
En voor de duidelijkheid: er staan zeker de nodige (herkenbare) kritische noten in de post van Wilfred. Maar de balans slaat voor hem op het einde naar de positieve kant uit, terwijl ik al een heel duidelijke reden zou moeten hebben om er naar toe te gaan (sessie verzorgen bijvoorbeeld).
Intrigerend vind ik overigens deze vraag die Wilfred stelt:
De organisatie probeert wel -net als in 2009- te experimenteren met alternatieve werkvormen, maar toch blijft de Online Educa een traditioneel congres. Zouden we met z'n 2000-en naar Berlijn gaan als presentaties vooraf online te bekijken zouden zijn, en de sessies gebruikt zouden worden voor dialoog? De 'flipped conference'? Als ik zie hoeveel mensen de zaal verlaten als discussies starten…
Is het niet ook een/de vraag waar we in het onderwijs mee worstelen? Komen de studenten wel als we ze niet op de een of andere manier dwingen te komen?