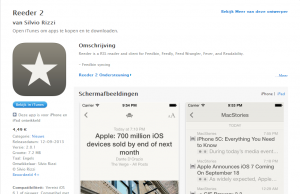 Ik schreef gisteren al over Google Alerts waar te laat de RSS-functionaliteit hersteld was. Voor een andere ontwikkelaar dreigt wat mij betreft hetzelfde te gebeuren: Reeder.
Het was voor mij dé applicatie om RSS-feeds te lezen in het Google Reader tijdperk. Maar dat tijdperk liep ruim 2 maanden geleden definitief af. En ongeveer 2 maanden daarvoor besloot ik al om over te stappen op Feedly. Inmiddels ben ik dus al 4 maanden aan het wennen aan de net wat andere interface van Feedly op het web (in de browser), op de iPad en op de iPhone. Eigenlijk ben ik er wel aan gewend.
Nou komt Reeder met een nieuwe universele App uit voor de iPhone en iPad. Maar daar moet ik wel €4,49 voor betalen. En het gaat me niet eens zozeer om het bedrag zelf, of om het feit dat ik al voor Reeder betaald had. Het is echter een hoog genoeg bedrag voor mij om te bedenken "heb ik wel een andere App nodig voor Feedly?".
Ben ik de enige? Wie is er de afgelopen 24 uur weer terug over geschakeld van Feedly naar Reeder (al dan niet in combinatie met Feedly uiteraard)? En hoe bevalt het? Gaat Reeder die 4 maanden overleven of heeft het zijn kans gemist?