Visiedocumenten die een periode van ruim 10 jaar bestrijken zijn rare dingen. Als ze "goed" zijn opgesteld zit er namelijk vaak voor iedereen wat in. Of als je wilt, dan kun je er altijd wel iets in vinden waar je over kunt vallen.
Met de OESO Learning Compass 2030 is het eigenlijk niet anders. Als ik het filmpje hierboven bekijk denk ik "ja, logisch, past bij de verwachtingen over de toekomst en de manier waarop het onderwijs daarop in moet spelen".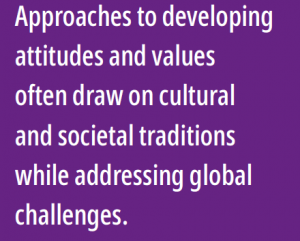 Pedro De Bruyckere valt over het voornemen om sociale en emotionele vaardigheden te gaan observeren en meetbaar maken.  Zijn zorg over de vraag in hoeverre je zulke vaardigheden aan kunt leren begrijp ik. Los nog van de vraag hoe je je gaat bepalen wélke waarden je dan gaat aanleren. Een van de toelichtende documenten (PDF-link) geeft aan die vaak gebaseerd zijn op sociale en culturele tradities. Nou, dan zie ik in Nederland de bui al hangen.
En als er staat dat leerlingen/studenten "agency" hebben over hun leerproces (PDF-link) dan lijkt met mij logisch dat dat bij een kleuter een andere invulling krijgt dan bij een universitaire student. Maar als ik dan lees "Agency implies having the ability and the will to positively influence one's own life and the world around them." dan denk ik : Ja, laten we alsjeblieft er voor zorgen dat leerlingen/studenten tegen de tijd dat ze het reguliere onderwijs verlaten die vaardigheid bezitten.
Dat betekent niet dat ik denk dat dat alleen een taak van de school is, dat er een vak "zelfregulatievaardigheden" of een vak "een leven lang leren" moet komen, dat is een invulling (en geen goede wat mij betreft).