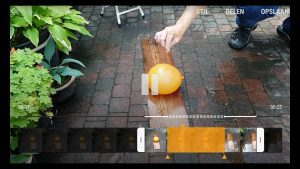 Iedereen kent de filmpjes wel van Mythbusters of op YouTube de Slow Mo Guys, schitterende slow motion opnames waarbij je elk detail van een razendsnelle actie / beweging / gebeurtenis kunt zien. Maar ja, dat zijn filmpjes gemaakt met apparatuur die voor thuisgebruik onbetaalbaar is.
Natuurlijk, je kunt elk filmpje dat je maakt vertraagd afspelen, maar dan wordt de beeldkwaliteit als snel heel slecht. De reden daarvoor is simpel: stel je maakt een filmpje met de normale 25 beeldjes per seconden. Dat ziet er voor ons oog prima uit. Ga je dat op halve snelheid afspelen, dan moet de software zelf de ontbrekende beeldjes ertussen verzinnen. Bij halve snelheid zal dat nog wel lukken (neem het ene beeldje, het volgende beeldje en morph die. Maar als je nog langzamer wilt dan wordt het beeld schokkerig. De enige echte oplossing is om (veel) meer beeldjes op te nemen dan die 25 beeldjes per seconde. Professionele camera's kunnen  bijvoorbeeld 10.000 beelden per seconde (fps – frames per second) opnemen. Dan kun je flink vertragen voordat je toch weer 25 beelden per seconde overhoudt.
Gelukkig bleken wij ook apparaten in huis te hebben die meer dan 25 fps weten op te nemen. De ene is een smartphone, niet de nieuwste wel een krachtige, de Samsung Galaxy S7 en een, eveneens niet nieuwe GoPro 4 Black. Beide camera's kunnen namelijk video met 480fps opnemen. Dat gaat dan wel niet in full HD (1920×1080 of "180p") maar met een resolutie van 1280×720 ("720p"). Nieuwere versies van beide apparaten kunnen al meer aan, maar dit was wat ik in huis had, dus daar ging ik mee aan de slag.