De nieuwe eindtermen zijn er: ambitieus en duidelijk!

Het volledige persbericht: https://t.co/7imDOpngIo pic.twitter.com/fQWzfqTCOM

— Hilde Crevits (@crevits) July 13, 2018
De Vlaamse Minister van Onderwijs is er blij mee, de nieuwe eindtermen "voor de eerste graad van het secundair onderwijs" zijn gereed, aldus haar tweet en persbericht. Klinkt goed. Zeker omdat o.a. burgerschap, computational thinking ("Computationeel denken en handelen"),  STEM (waarom hier niet ook de A van Arts of een nette Vlaamse vertaling?) en zoiets als EHBO (ik hoop eigenlijk dat ze ook aan digitaal EHBO doen!!) hier al een expliciete plek gekregen hebben. Of het wat is, dat weet ik nog niet. Ik heb voor nu alleen het persbericht en de voorbeelden die daar in staan, zijn nog niet allemaal zo revolutionair.
Neem bijvoorbeeld het stukje over computational thinking: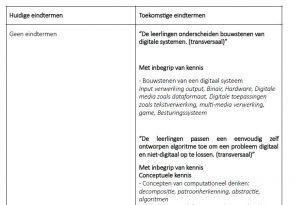 of die van STEM: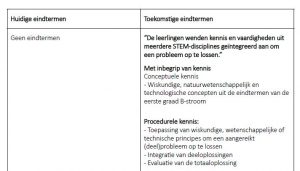 Daar word ik nog niet zo enthousiast van. Die komen nog heel erg overeen met het niveau waarop bv het SLO eindtermen beschrijft. Vast zinvol, maar niet bruikbaar voor bv een docent die onderwijs wil ontwikkelen. We gaan het zien.