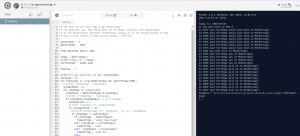 Het zijn zo van die vragen die opeens over de ontbijttafel vliegen. Een van mijn neven is geboren op Moederdag. Toen was dat 9 mei.
Vraag #1: kun je daaruit afleiden welk jaar het is?
Vraag #2: hoe vaak is hij op Moederdag jarig?
Tja, en als het dan weekend is, dan is er tijd om op zoek te gaan naar een antwoord. Het werd een combinatie van het opknippen van het probleem in stukjes en voor een deel brute rekenkracht (nou ja).
Het opknippen van het probleem was niet zo moeilijk: wanneer valt Moederdag? Het is de tweede zondag van mei. De eerste zondag valt op zijn vroegst op 1 mei, op zijn laatst op 7 mei. Dat betekent dat de tweede zondag op zijn vroegst op 8 mei en op zijn laatst op 14 mei valt. Als je de zondagen telt tussen 1 mei en 14 mei, dan weet je dat de tweede die je tegen komt Moederdag is.
Als je dan kijkt of die dag gelijk is aan 9, dan weet je of zijn verjaardag samenvalt met Moederdag.
Gereedschap voor het tweede deel was vandaag repl.it en dus Python. Ik heb de code hier gedeeld: https://repl.it/@PiAir/Jarigopmoederdag.
Als je de link volgt en de code uitvoert, dan zie je dat het best vaak voor komt. Afleiden in welk jaar hij geboren is kan op basis hiervan niet. Dus dat jaartal heb ik onderdeel van de code gemaakt (de code kijkt 50 jaar terug ten opzichte van dat jaar en 100 jaar vooruit). En de uitvoer laat zien dat er heel duidelijk een regelmaat is: elke 6, 5, 6, 11 jaar valt zijn verjaardag samen met Moederdag.
Geen oplossing voor een belangrijk wereldprobleem. Maar ja, het was een vraag die we hadden. 🙂