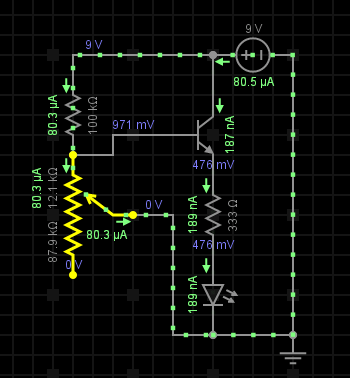 Toen Raoul in zijn reactie op mijn bericht van maandag de vraag stelde "Voor de mensen die nog niet zulke Makers zijn en denken: o.k., wat heb ik precies nog meer nodig dan dat bordje, en waar bestel ik ook dat dan zo goedkoop dat het nog leuk blijft: heb je die info eenvoudig bij de hand ;-)?" was mijn eerste reactie: "Neee, natuurlijk niet!" (ja, met 3x e).
En dan niet omdat ik zo'n vervelend persoon ben of zo, maar eigenlijk omdat dit typisch zo'n ding was waarvan ik me eigenlijk niet kon voorstellen dat iemand zou zeggen "dat is precies wat ik nodig heb" (een minizaklamp op LED-basis bij de Action is dan handiger) maar omdat het uitzoeken van "wat heb ik nodig?" in dit geval toch echt 80% van de fun zou moeten zijn.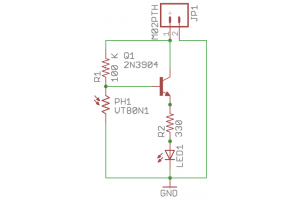 En OK, de maker van het bordje maakt het niet super eenvoudig (al is eenvoudig natuurlijk relatief), maar hij geeft op zich toch wel alle informatie die je nodig hebt om te ontdekken wat je nodig hebt. Deels komt dat ook wel omdat het circuit super basic is: het is een LED op een batterij. Maar als je de LED direct op een batterij zou aansluiten dan zou hij doorbranden. Om dat te voorkomen zit er een weerstand van 330 Ohm voor. Dat er een LED op zit is gemakkelijk te herkennen aan de foto, de twee weerstanden zou je ook moeten herkennen.
Dit circuit heeft een ingebouwde automatische schakelaar in de vorm van een transistor. Die wordt bedient door de LDR die afhankelijk van de hoeveelheid licht meer of minder weerstand heeft. En op dit punt kan ik me voorstellen dat je het al moeilijker gaat vinden. Tijd voor wat meer uitleg. Met daarbij de disclaimer dat ik eigenlijk ook maar een leek ben!