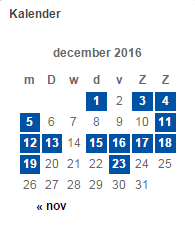 December zit er al weer op en daarmee dan ook 2016. De laatste weken van het jaar komen er altijd veel lijstjes voorbij, de 10 beste dit of de 10 meest gelezen dat. Doe ik niet aan mee, dus die kon je hier niet vinden.
Ik ben eigenlijk ook niet een persoon om lange persoonlijke bespiegelingen te plaatsen op zijn weblog. Maar kijkend naar het maandoverzicht en de vele dagen dat ik deze maand géén blogpost geschreven heb voelde ik toch wel de noodzaak om daar verantwoording over af te leggen.
Of nou ja verantwoording afleggen, gewoon even een teken van leven. Het is vakantie en in tegenstelling tot andere kerstvakanties, nog geen projecten waar hier online veel over te melden valt. Verhalen over duiken, feestjes van de kinderen, het bakken van wafels en zo kom je hier namelijk nou eenmaal niet tegen (deels wel op andere plekken).
Maar waarschijnlijk is het ook gewoon wel zo dat ik tegenwoordig ook wat vaker denk "nou, daar hoef ik dan eens niet over te bloggen". Want we maken ons met z'n allen wel erg vaak heel erg druk over dingen. Daarmee heb ik het uitgangspunt van "minimaal 1 blogpost per dag want er is altijd wel wat te vertellen" een beetje losgelaten.
Maar voor wie nog een goede voornemen zoekt voor 2017, bij deze: er gebeuren elke dag ook mooie, leuke, lieve, prachtige dingen. Het maakt daarbij niet uit of de rest van de wereld die zo ziet zoals jij die ziet. Geniet er van en koester de mensen waar je ze mee mag delen.
De allerbeste beste wensen voor 2017!
(p.s. als ik de blogpost zo naleest vind ik zelf alsof het er eentje is waarbij je tussen de regels door moet lezen om te ontdekken dat er eigenlijk heel ernstige dingen aan de hand zijn, maar dat is dus niet zo! 🙂 )