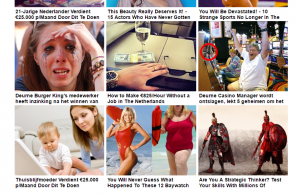 Als je dit weblog volgt dan weet je dat ik een gruwelijke hekel heb aan (de meeste) online advertenties die ik tegen kom. Vandaag ga ik het niet hebben over de klaagzang van adverteerders of de vraag of advertenties té groot zijn (en schadelijk voor het beeld van jouw dienst), maar wil ik je een voorbeeld laten zien van adverteerders die zo dom zijn om mijn IP-adres te gebruiken om, gekoppeld aan de locatie-informatie die hen dat oplevert (= dit vaste IP-adres bevindt zich in Deurne, NL) namaak berichtkoppen te produceren voor zogenaamde nieuwsberichten waar ik dan op mijn beurt op zou moeten gaan klikken.
Ik kan je niet garanderen dat jij dezelfde resultaten krijgt als je op de link naar het bericht bij Pocketnow.com klikt, maar de kans is groot dat ze ook jou proberen wijs te maken dat er in jouw stad/dorp een Burger Kin is waarbij een medewerkster van de Burger King een inzinking krijgt en/of de manager van het plaatselijke Casino ontslagen wordt. Deurne (die in NL tenminste) heeft beiden niet. Terwijl het wél gebracht wordt als ander gerelateerd nieuws.
Inmiddels is het hele blok bij mij toegevoegd aan AdBlock en verschijnt het niet meer op mijn scherm. Vraag is alleen wát ze er nou aan hebben als ik wél doorklik. Leuk als iemand aan iemand anders daarvoor geld betaald, maar ik weet zeker dat *niemand* daardoor meer verkoopt, imago-winst behaald of mij vaker naar een site terug gaat laten komen.