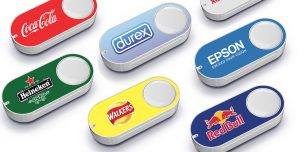 Amazon Dash is niet nieuw, maar maakt nu dan de oversteek naar deze kant van de oceaan. Nog niet naar Nederland, maar wel al naar het Verenigd Koninkrijk, Duitsland en Oostenrijk.
Voor wie het niet kent: Dash bestaat uit twee hardware-opties. De eerste is wat mij betreft (deels) eigenlijk heel handig. Het is een handige scanner waarmee je de streepjescode van een product (bv een pot jam die leeg is) scant en zo aan je boodschappenlijst toevoegt. Maar…het gaat voor mij persoonlijk dan een beetje mis bij deel twee van de afhandeling: het apparaat gaat er namelijk vanui dat die producten bij Amazon besteld worden (handig toch?). Slim van Amazon, maar het betekent dus wel dat je al je inkopen die je scant bij 1 bedrijf besteld.
De tweede optie, de Dash Button. Dat is een knop die je bv in je voorraadkast bij het wc-papier hangt, of op de vaatwasmachine plakt. Als dat het wc-papier of het wasmiddel op is, hoef je alleen maar op de knop te drukken en er wordt automatisch wc-papier of wasmiddel (of RedBull, Heiniken bier, Durex condooms, Cola, etc.) bijbesteld.
Het artikel op de BBC website maakt ook wel al duidelijk dat de mensen daar zo hun vraagtekens hebben bij die heel belangrijke vraag: zijn we echt zo gemakkelijk ingesteld dat we ons zouden vastleggen op het bestellen van hetzelfde merkproduct steeds bij dezelfde winkel?
En natuurlijk hechten de Britten erg aan hun zelfstandigheid:
And do we like the idea that this brilliant American technology firm will be collecting ever more data about our shopping habits, even if it is doing that to deliver us a better retail experience?
Like it or not, shopping is becoming an on-demand, push-button, instant gratification experience. And, as in so many other areas of our lives, it seems likely that it will be shaped by a US technology company.
Enerzijds kan ik me er wel wat bij voorstellen. Ik doe elke week de boodschappen en er zullen dus heel wat producten zijn die ik elke week of met grote regelmaat steeds van hetzelfde merk bij diezelfde supermarkt haal. Die haal ik echter zelf, die bestel ik niet online, laat ik ook niet bezorgen. Toch is het in de VS aangeslagen en is het aantal knoppen daar al uitgebreid tot zo'n 150 verschillende. Ik denk dat de Britten en de Duitsers een goede test voor Amazon zijn. Daar hebben ze al een winkel (die in Duitsland gaat zich nu ook meer op Nederland richten) en als het z daar lukt, ja dan vrees ik dat we er in Nederland ook gek genoeg voor zijn. We gaan het zien.