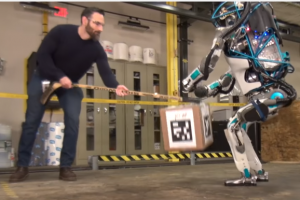 Waarschijnlijk heb je het filmpje al een paar keer voorbij zien komen. De demo van Boston Dynamics waarin ze laten zien wat hun Atlas, The Next Generation robot kan.
Heb je het nog niet gezien, kijk dan eerst even. Indrukwekkend. Maar ook toch wel zorgelijk. De vraag die Inverse erover stelt is wat mij betreft namelijk een heel terechte:
Is het OK dat deze robot zo gepest, geduwd, "gemarteld" wordt?
Zolang robots dingen zijn, apparaten met een aan en uit-knop, hebben we er in het algemeen niet zo heel  veel problemen mee. Maar waar ligt die grens nu robots steeds meer menselijke trekjes beginnen te krijgen?
Het zijn geen mensen, maar dat is ook niet allesbepalend. Immers, ook bij dieren hebben we grenzen, vinden we niet alles OK (al is dat niet altijd hetzelfde als wat we doen of toelaten).
In het bericht op Inverse wordt "waarnemingsvermogen" (sentience) als basis genomen. Dat wordt omschreven als "het vermogen van de psyche de prikkels, ontvangen in de perifere zintuigen, gestalte te geven en naar waarde te schatten".
Vraag zal dus zijn wat dan "naar waarde schatten" is, maar zo'n robot die steeds autonomer op zijn omgeving reageert op basis van een opdracht die hij/zij krijgt…… ?
Is het dan niet iets waar we over moeten nadenken zolang het nog niet zo is? Omdat het als we wachten totdat het zover is en eigenlijk te laat is, we het risico lopen in allerlei doemscenario's terecht te komen die we nu regelmatig in sci-fi films terug zien? Over machines die besluiten dat zij beter eerst actie tegen ons kunnen ondernemen?