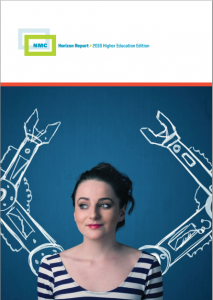 Ik heb al lange tijd een moeizame relatie met het "Horizon Report". Als ik het lees krijg ik eigenlijk altijd wel hetzelfde gevoel als wanneer ik in een zaal zit te luisteren naar een trendwatcher die het over vloeibare samenlevingen heeft.
Want, naast het gebrek aan reflectie op de eigen voorspellingen van het jaar ervoor, zijn het ook documenten waar je als je met innovatie bezig bent, nogal last van kunt krijgen. Want als iemand iets beschrijft als "Solvable Challenge: Those that we understand and know how to solve" en daar dan "Blending Formal and Informal Learning" en "Improving Digital Literacy" dan hoor ik een bestuurder al denken "oh, dat hebben we opgelost, hoeven we dus ons ook alleen nog maar even te implementeren" (en zou je het ze kwalijk kunnen nemen dat ze het denken).
Natuurlijk, het zijn twee onderwerpen waar we best al het nodige van weten. Maar als generieke uitspraak "we hebben het opgelost" vind ik het toch haast schadelijk.
Andere zaken die genoemd worden zijn, een beetje afhankelijk van waar je kijkt, ook weer helemaal niet zo nieuw en dan is "Mid-Term Impact Trends: Driving Ed Tech adoption in higher education for three to five years" weer een wat aparte beschrijving. Neem "Redesigning Learning Spaces", daar wordt in het rapport van aangegeven dat er ruim onderzoek over beschikbaar is, praktijkvoorbeelden ook (daar kun je al gemakkelijk een bijeenkomst met NL-voorbeelden van vullen), dat lijkt me ook inderdaad. Daarvan zou je dus zelfs kunnen stellen dat als je nu nog níet nadenkt over de veranderende eisen aan je ruimtes (of als je nu nog steeds nieuwbouw of verbouwing uitvoert op basis van hokjes met bankjes en een bord voor de klas) je over 3-5 jaar echt zou moeten gaan merken dat het knelt.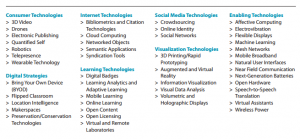 Ik hoop dat het moeizame van mijn relatie met het rapport al een beetje duidelijk wordt. Als je het gewoon leest als interessant rapport over ontwikkelingen (vergeet het woord "trends" dan a.u.b. dat is namelijk zo'n onzin) op het gebied van leertechnologie (= technologie / ict die gebruikt wordt in het onderwijs), dan zou ik zeggen: "zeker doen!".  Dat het rapport een wat smallere definitie hanteert van het begrip leertechnologie blijkt overigens uit de indeling in de afbeelding hiernaast.
Als je wilt weten wat op dit moment de buzz-words zijn op dit gebied, zeker ook doen. Als je denkt een gedegen stand van zaken, een beschrijving van trends (= ontwikkeling van een bepaalde richting op langere termijn) te krijgen, antwoorden op vragen als "waar moet ik als docent mee aan de slag?" te krijgen. Laat het dan maar liggen.
p.s. voor wat betreft de indeling in technologieën, die zegt tussen de lijnen door ook wel het nodige. Zo staat Cloud Computing bij "internet technologies" en niet bij "enabling technologies", daar staat dan wel weer Open Hardware terwijl Open Content en Open Licensing bij de "learning technologies" staan.