Quicknote: Raspberry Pi All-in-one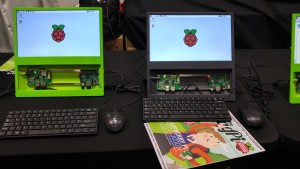 Tijdens de Bett werden de nodige hands-on workshops gegeven, onder andere over het gebruik van Mindcraft op de Raspberry Pi. Bij een van die sessies gebruikten ze een hele mooie Raspberry Pi All-in-one setup. Niet dat het de eerste en de enige van zijn soort was, op Google vind je heel wat voorbeelden. Ik vond het wel mooi omdat het enerzijds functioneel was (en stevig door het frame van metaal), maar je anderzijds toch nog de hardware aan de voorkant kon bereiken. Ik dacht eerst dat het 2 Pi's waren (eentje voor de server, eentje voor het programmeren), maar het linker bordje is het LCD-board, rechts zit de Pi.
Ik heb helaas niet kunnen achterhalen of de frames zo te bestellen waren of dat ze ze speciaal hadden laten maken.