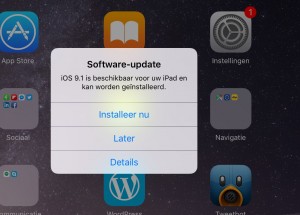 Microsoft krijgt de laatste tijd het nodige commentaar over het gegeven dat ze steeds opdringeriger worden als het gaat om het updaten van Windows 7 of 8 naar Windows 10.
Toch is het niet alleen Microsoft waar dat voor geldt, ook Apple is hier steeds irritanter in aan het worden. Voorheen was het al zo dat je iOS maar heel even kon downgraden naar een oude versie, daarna blokkeerde Apple die optie. Ook is "instellingen" de enige "app" in iOS waarbij je notificatie van een update (dat rooie eentje) niet kunt verwijderen (gelukkig kan dat bij mail, of de App Store inmiddels wél).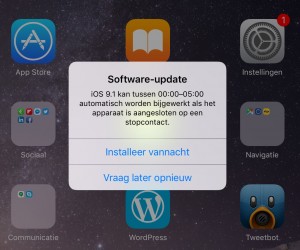 Maar sinds kort krijg ik elke keer (ik geloof 1 x per dag) een popup die me wijst op de beschikbaarheid van een Software-update en de vraag of ik die wil installeren (zie de afbeelding).
Kies ik voor "Later" dan ben ik er nóg niet vanaf want dan wil Apple weten of komende nacht (tussen 0:00 – 05:00 uur) wellicht een geschikt tijdstip is. De optie "Val me niet meer lastig met deze update!" zit er niet bij, alleen "Vraag later opnieuw".
Bij Microsoft weet ik dat ik updates gewoon moet installeren. In 9 van de 10 gevallen gaat het dan namelijk om beveiligingsproblemen die ik beter zo snel mogelijk laat repareren. Bij Android zou ik willen dat de nieuwste update er zo snel mogelijk was, daar moet ik veel langer wachten dan ik zou willen.
Bij Apple gaat het ook altijd om het oplossen van de meest recente jailbreak opties. Een dringende reden om te updaten is er eigenlijk nooit. Ja, het staat leuk in de statistieken: x% van alle devices draait de meest recente iOS versie. Fijn voor de ontwerpers en ontwikkelaars en fijn voor de marketeers. Je zou bijna terug verlangen naar de tijd dat het fijn voor de gebruikers was…..