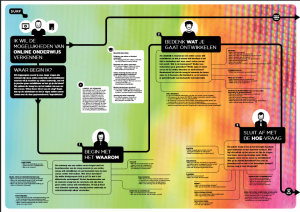 SURF heeft vandaag de Menukaart Online Onderwijs gepubliceerd. Het is een PDF met een stappenplan van stappen die je moet zetten als je online onderwijs wil gaan ontwikkelen. Hij is ontwikkeld voor docenten die aan de slag willen met het ontwikkelen van een online cursus. Aldus de toelichting.

Ik vind het op zich logische stappen, maar ik vraag me ook af of een individuele docent hier echt iets mee kan. Ik neem aan dat in een aantal gevallen hij/zij na het lezen vooral zal weten met welke vragen naar de interne ondersteuningsdienst te gaan. Niet dat "wij" dat dan weer erg vinden natuurlijk. En het heet ook een menukaart, niet recept, er lijkt de veronderstelling in te zitten dat de docent niet zelf kookt.
De bewering over de achterkant: Wilt u liever direct aan de slag, dan kunt u op de achterzijde van de poster een eigen online cursus samenstellen met de daar gepresenteerde 'ingrediënten': leermaterialen, apps, tools, diensten en werkvormen. vind ik echter ronduit misleidend. Die achterkant is zó compact en alleen bestaande uit steekwoorden dat geen docent daar voldoende aan heeft om direct aan de slag te kunnen. Het is alsof je een aantal namen van exotische ingrediënten opnoemt en dan zegt dat je dan meteen aan de slag kunt met het koken van een heerlijke maaltijd.
Blijf ik dus toch een beetje met de vraag zitten of de doelgroep iets kan met de kaart.