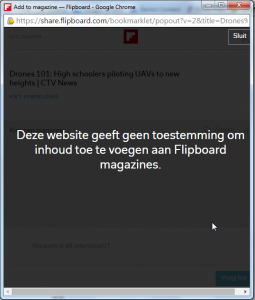 Toen ik het een tijdje geleden bij een Nederlandse site tegen kwam dacht ik nog dat het een soort verkapte "bescherming" van hun content was. Maar inmiddels vraag ik me af of het niet gewoon een bug is, deze melding van Flipboard bij het "flippen" van deze pagina naar mijn magazine over drones, via de bookmarklet van Flipboard.
De vraag is/was dan namelijk: hoe doet een site dat? Ik heb in de bron van de pagina gekeken, maar kon daar geen tags of instructies vinden die specifiek of algemeen gericht waren op Flipboard of vergelijkbare sites. Ik kon ook online geen instructies vinden die uitleggen hoe je zoiets moet doen.
Daarom hou ik de mogelijkheid nog open dat het gewoon een ietwat vreemde melding van Flipboard is omdat ze de pagina proberen op te halen (voor de metadata, afbeelding etc) en daar problemen bij ondervinden. Ik weet het niet. Als jij toevallig wel meer informatie hebt over dit verschijnsel, dan hoor ik het graag!
View my Flipboard Magazine.

Oh, en het gebruik van magazines bij Flipboard is ook voor mij nog een experiment. Ik blijf het onhandig vinden dat ik content die ik daar naar toe stuur niet meer "er uit" krijg. Daar was niet meer voor nodig dan het simpelweg aanbieden van een RSS-feed voor een magazine!