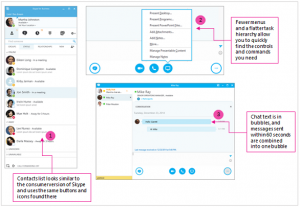 Het zal nog wel even duren voordat mijn werkgever "Skype for Business" uitgerold heeft  (al was het maar omdat die nog niet definitief beschikbaar is), maar het is goed om te zien dat Microsoft slimme dingen aan het doen is op het gebied van online chat / videoconferencing / online vergaderen.
Want toen ze hun eigen Live-messenger uitfaseerden ten gunste van Skype kregen ze nog veel kritiek, maar nu ze Lync integreren met Skype en omdopen tot Skype for Business hoop ik / verwacht ik dat we te maken krijgen met "the best of both worlds". En dat zou heel mooi zijn. Want Skype is al heel lang een heel betrouwbare videoconferencing tool en Lync is dat sinds de 2013 versie ook. Maar waar ik bij Skype moet kiezen tussen het delen van mijn eigen video of het delen van mijn desktop, kan Lync probleemloos beiden delen. En waar Skype door systeembeheerders gezien wordt (werd?) als een vage tool die gebruikers zelf installeerden, is Lync een tool die helemaal binnen hun infrastructuur past, met accounts voor (in ons geval) alle medewerkers en studenten (single-signon) en een koppeling aan ons telefoonsysteem waardoor ik met Lync kan bellen naar telefoons van collega's (en ik op mijn desktop een notificatie krijg als een collega mij belt op mijn Fontys nummer nog voordat mijn mobiele telefoon over gaat!)
Als Microsoft er dus in slaagt om die twee werelden succesvol te integreren dan hebben ze stilletjes een tool gebouwd waar Apple FaceTime bij verbleekt en waar ook Google Hangouts binnen bedrijven (en onderwijs?) het nakijken heeft. Maar goed, we moeten dus nog even wachten.