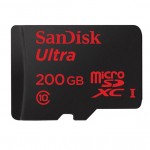 Het is er echt zo eentje in de categorie "kun je er met je hoofd nog bij?": van 360 kilobyte (360.000 bytes) op een 5¼ inch diskette  (13,34 cm diagonaal) in mijn eerste computer, naar 200 gigabyte (let op: ook hier is een 200 gigabyte gelijk aan 200.000.000.000 bytes), dat zijn heel wat nullen (én enen) meer. Zeker als je bedenkt dat de microSD kaart waar e.e.a. op opgeslagen wordt maar 15 mm x 11 mm x 1 mm groot is.
Natuurlijk, de prijs per stuk is ook wat groter: $399,- bij de introductie. Maar ook daarvan is inmiddels bekend dat dat alleen in het begin geldt. Het wachten is nu weer op de volgende stap groter en dan daalt de prijs van dit exemplaar automatisch.
Dat zie je ook aan de "maat kleiner": de 128 GB uitvoering van deze kaart van SanDisk kost "maar" €95,90 op het moment dat ik dit type. Als je dus niet persé 200 GB op één kaartje nodig hebt, ben je een stuk goedkoper uit met losse kaartjes van 128 GB.
En voor wie zich afvraagt of microSD kaartjes in smartphones nou zo nodig zijn, kijk maar eens naar de huidige prijzen voor een iPhone 6: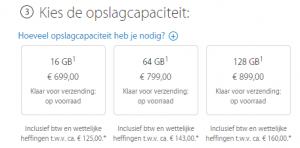 Zelfs als je de wettelijke heffingen en btw (die je ook bij SanDisk moet betalen!) er vanaf trekt, betaal je voor de 112 GB die je voor de duurste iPhone 6 extra krijgt nog steeds € 1,47 per GB extra ten opzichte van het goedkoopste model. Neem je alle kosten mee dan betaal  je € 200, extra voor 112 GB extra, of € 1,79 per GB extra. Ter vergelijking: voor de 128 GB uitvoering van de SanDisk kaart (en dat is dus echt geen sloom kaartje van een B-merk) betaal je € 0,75 per GB (incl. BTW en heffingen). En voor de duidelijkheid, ik verwacht niet dat het bij andere smartphone-aanbieders heel veel anders (beter) is. Opslag is een erg competitieve markt, dus is het logisch dat de prijzen van hier in gespecialiseerde aanbieders veel sneller dalen dan dat zoiets verwerkt wordt in de prijs(stelling) van toestellen.