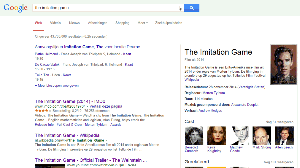 Ik had de trailer op YouTube van The Imitation Game willen invoegen bij dit bericht, maar de reacties daarbij waren verworden in een discussie over wie nu een grotere bijdragen geleverd had: de Polen of Alan Turing. En daar gaat het niet over. De film is wat mij betreft een mooi eerbetoon aan een man die veel te lang heeft moeten wachten op erkenning voor zijn werk.
Naast dat het een eerbetoon aan Alan Turing is, geeft de film ook wel stof tot nadenken als het gaat over het gegeven dat er bewust, op basis van statistische afwegingen gekozen werd/moest worden wie er wel zou worden gered en wie niet. Het eerste voorbeeld in de film met de vloot schepen zal ongetwijfeld fictief en gedramatiseerd zijn, maar het principe er van was duidelijk. Het redden van miljoenen levens door anderen niet te redden lijkt me een meer dan zware taak en afweging.
Overigens vind ik dat Keira Knightley als Joan Clarke best riskant was. Keira heeft namelijk de neiging om de aandacht in een film naar zichzelf toe te trekken. Toch blijft dat hier uiteindelijk (gelukkig) beperkt. Hoe dan ook: een dikke aanrader!
Grappig detail: De afbeelding hier bij het bericht laat zien wat er gebeurt als je in Google zoekt op Bletchley Park (de link is de live versie, klikken op de afbeelding geeft een grotere versie).