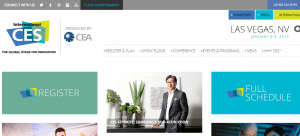 Begrijp met niet verkeerd: Ik hou best van gadgets en nieuwe technologie. Ik wil dan namelijk meteen kijken wat die dingen kunnen en hoe het in te zetten is (in het onderwijs of anderzijds).
Maar de tweede week van elk jaar kan ik Feedly haast wel uit zetten. Want dan vindt de CES plaats. Het is dé grootste consumenten elektronicabeurs en iedere zichzelf respecterende technologie verslaggever of blogger/vlogger gaat daar naar toe om verslag te doen.
Dat betekent dus 10x dezelfde nieuwe introducties, 10x "handson" video's waarbij iemand bij een rumoerige stand even "hét device" vast mag houden en laten zien. Een device waarvan het nog maar helemaal de vraag is óf en zo ja wanneer het op de markt komt.
Waar CES wel goed voor is, is een trendanalyse achteraf: op welk gebied vonden leveranciers dat ze elkaar dit jaar de loef af moesten steken? Dit jaar verwacht men 4K TV's, maar de vraag is dan ook vooral: welke volgende stap kondigen ze al aan?
Wat zijn de ontwikkelingen op het gebied van wearable devices? Welke wilde ideeën leven er?
Daarbij dan dus wel met duidelijk in het achterhoofd dat een (groot) deel van de getoonde producten nooit in de winkel zal verschijnen. Belangrijke indicator daarbij: hebben ze een werkend model of iets dat achter glas te zien is. In dat laatste geval is een introductie nog erg ver weg.
Ik zal dus ook dit jaar maar zeer mondjesmaat rapporteren over berichten die ik vanuit Las Vegas voorbij zie komen. Maar de waarschuwing dus bij deze: wordt niet té enthousiast van alle verhalen die je de komende week op dit gebied voorbij ziet komen!