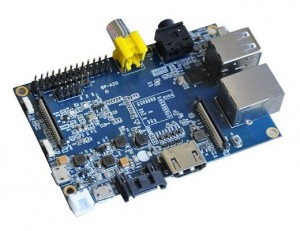 Eigenlijk is het al veel te laat op de avond om heel fundamentele vragen uit te gaan zitten werken in een blogpost, maar goed, het is even niet anders. Ook vandaag was ik een groot deel van de dag op pad en dan is het natuurlijk op een gegeven moment vanzelf laat als ik door Feedly zit te bladeren.
Daar kwam ik twee berichten tegen met betrekking tot klonen van de populaire Raspberry Pi: de eerste, de Hummingboard is nog niet op de markt, prijs ook nog niet bekend, maar duidelijk is dat hij een snellere processor zal hebben, meer RAM geheugen, Gigabit Ethernet, Wifi en Bluetooth, een RTC (Real Time Clock), infraroodontvanger, Raspberry Pi compatible headers (26-pin P1 header), Camera connector (CSI). 
De tweede is al te koop online (en heeft zelfs een gekloonde naam: Banana Pi) is iets duurder, maar ook hier duidelijk ook meer waar voor dat beetje extra geld.

En vanuit dat oogpunt, zou de vraag "goed of slecht?" natuurlijk ook gemakkelijk te beantwoorden zijn. Ja, natuurlijk zijn klonen goed, dat drijft de prijs omlaag of de prestaties per euro omhoog.
Er zit echter ook een keerzijde aan. De klonen zijn net niet helemaal hetzelfde qua hardware, dat betekent (zo begrijp ik) in ieder geval bij de Hummingboard al dat de connector van de camera weliswaar past, maar dat de camera nog niet op het board ondersteund wordt. Niet erg als je dat van te voren weet, maar het kan voor verwarring zorgen bij minder ervaren kopers. Kopers die alleen zien dat het een Raspberry Pi compatible board zou moeten zijn. Die mensen zouden Banana Pi kunnen associëren met Raspberry Pi en ten onrechte kunnen denken dat ze door hetzelfde bedrijf gemaakt worden.
Daarom, wat mij betreft nog geen definitief "goed, niet goed" oordeel. Banana Pi lijkt me in ieder geval geen handige naam. Dan is Hummingboard beter, zonder naamsverwarring. Maar ook dan moet er wat mij betreft echt heel duidelijk aangegeven worden hoever de uitwisselbaarheid met een Raspberry Pi gaat.