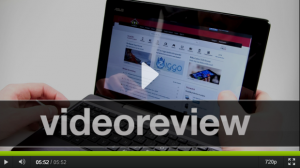 Afgelopen november verwees ik naar de Asus Transformer Book T100 met daarvoor de toevoeging "hebben". Afgelopen week werd ik op 3 verschillende manier weer op de T100 gewezen:
De oorspronkelijke post was (automatisch) gesloten voor nieuwe reacties, genoeg reden dus om er een nieuw bericht voor te starten. Zeker ook omdat ik binnenkort weer eens naar de VS mag en daarom voor de moeilijke (ahum) keuze sta: neem ik een Macbook Air mee terug of ga ik toch voor goedkoop en een T100?
De afbeelding hierboven linkt naar de recente review van de T100 bij Tweakers. Ik kan de videoreview niet embedden, maar ik zou hem zeker even bekijken als je over aanschaf nadenkt.
Overeind blijft wat ik in november al voor mezelf duidelijk had: áls ik er een aanschaf, dan een 64GB exemplaar en niet de 32GB versie.
Maar, na het bekijken van de videoreview heb ik zo mijn ernstige twijfels gekregen. Het formaat van het toetsenbord is toch wel klein. En de videobeelden laten duidelijk zien dat het een licht geheel is. Het voorbeeld van het wiebelen van het apparaat vind ik niet positief.
Natuurlijk, een aparaat van zo'n 450 euro kun je niet echt vergelijken met een Macbook Air van zo'n 1.000 euro. De ene is ruim 2x zo duur als de andere. Maar eigenlijk wil ik gewoon één apparaat dat genoeg is voor mijn dagelijks gebruik. Voor écht zwaar werk heb ik nog steeds een stevige desktop. Voor tabletwerk heb ik een iPad Mini.
Ik zou hoogstens een Windows-tablet wel handig vinden om op te hoogte te blijven op dat gebied (om te blijven ervaren of Windows op een touch interface volwassen wordt). Maar dat is dus heel wat anders dan een dagelijkse machine die je elke dag bij je hebt.
Voor wie me nog niet (goed genoeg) kent: ik ben geen fan van Apple als bedrijf. Mac OSX als OS kan ik op zich best mee overweg en in combinatie met Parallels zie ik ook geen probleem als het gaat om het draaien van Windows applicaties waar dat nodig/handig is. Zo doe ik dat nu ook op een Mac Mini die aan mijn Tacx hangt en daar de Windows only software draait die er bij hoort.