Fontys onderzoekt 3D-printen in de praktijk. Lector Ger Post in De Ondernemer @bdtilburg over het Objexlab pic.twitter.com/vQJsf5RH71

— Fontys Hogescholen (@Fontys) March 23, 2014
Op de een of andere manier hebben onderwerpen en technologieën waarmee ik eerst semi-privé in aanraking kom de neiging om na een tijdje ook een relatie met mijn regulier werk voor Fontys te krijgen. Het verbaasde me dan ook niet dat ik die vraag ook van tijd tot tijd krijg als het gaat over 3D printen. Nee, zei ik dan altijd, dat zie ik vanuit mijn rol bij de dienst Onderwijs en Onderzoek niet zo snel gebeuren.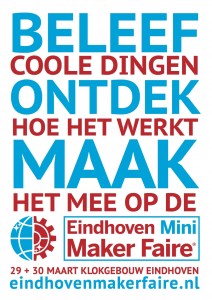 Uiteraard is dat ook nu waarschijnlijk niet helemaal zo. Binnen het Fontys Centre of Expertise High Tech Manufacturing and Materials Objexlab wordt onderzoek gedaan naar wat 3D-printen voor bedrijven en onderwijs kunnen betekenen.
Meer over het expertisecentrum kun je vinden op hun Facebook-pagina en op Twitter. Komende week kun je ze ook vinden op de Eindhovense Mini Maker Faire in het Klokgebouw. Eens kijken of ik daar bij kan zijn omdat ik ook Fablab Maastricht op de deelnemerslijst zie staan. En dat zijn tenslotte toch de mensen die me met het daadwerkelijk zelf in 3D printen in aanraking hebben laten komen.
Ook interessant: ik zie bij de foto's op Facebook iets staan dat ofwel een tweetal Makerbot 2X 3D printers ofwel een tweetal Wanhao's is. In het ene geval kosten ze zo'n 2.800 USD per stuk, in het andere geval zo'n 1.280 euro. Maakt toch wel beetje verschil. 😉
Goed dat "we" ook op dit gebied actief zijn. Ik zal ze zeker blijven volgen, niet alleen als gewone consument, maar ook als ouder van twee kinderen waarvan deze technologie straks zo gewoon gaat worden als voor ons de computer nu is!