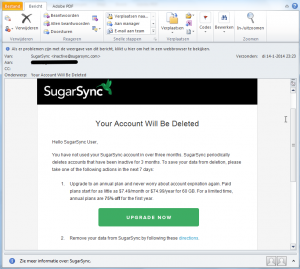 Ik kreeg een mailtje van SugarSync. En eerst was ik daar een beetje verontwaardigd over. Maar nu ik er een blogpost over aan het maken ben, is het een heel grappig verhaal aan het worden.
Goed, waarom niet blij met de mail. Nou, deels al vanwege de schreeuwende kop "Your Account Will Be Deleted". O ja?
Ja, net als ook andere bedrijven wel doen, verwijderen ze blijkbaar van tijd tot tijd de accounts die al 3 maanden of langer niet gebruikt zijn. Slim, dan gooi je namelijk ongebruikte accounts er tenminste tussenuit.
Op het laatst stuur je dan nog even een mail met die waarschuwing zodat gebruikers die je product/dienst toevallig een tijdje wat minder gebruikt hebben, de kans krijgen om snel weer actief te worden en het account in de lucht te houden.
Maar daar kom je bij SugarSync niet al te gemakkelijk mee weg. Zo lijkt het tenminste.
Lees verder….