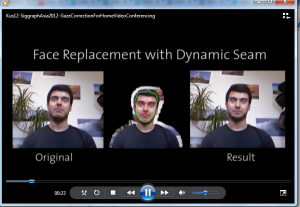 Het is een bekend verschijnsel voor iedereen die regelmatig via de computer vergaderingen heeft: de webcam van jezelf en de andere deelnemers staat altijd net iets hoger, lager, meer naar links of rechts dan het videobeeld waar je naar kijkt. Omdat je gewend bent naar de ogen van de ander te kijken als je er tegen spreekt of naar luistert betekent het haast automatisch de het voor de ander lijkt alsof je niet naar zijn of haar ogen kijkt.
En strak naar de camera kijken zónder dat je dan naar het scherm kunt kijken is ook onhandig.
Onderzoekers in Zurich hebben geprobeerd dat wat aan te doen. In dit artikel beschrijven ze een methode waarbij het beeld van de camera digitaal aangepast wordt zodat het toch lijkt alsof je recht in de camera kijkt. Nadeel is nu nog dat je daarvoor een Kinect sensor nodig hebt, die heeft niet iedereen bij zijn PC staan. Ook werkt de vertaling van het beeld niet altijd. Er staan een tweetal filmpjes bij het artikel (helaas niet te embedden en zelfs afspelen in de browser lukte mij niet, ik moest ze downloaden om af te spelen) die voorbeelden laten zien. Meestal gaat het best goed, maar er zit een voorbeeld bij waarbij iemand een slok neemt uit een grote koffiemok en daarbij vervormd het beeld dan nogal.
De onderzoekers werken nu aan een plugin voor Skype. Dat zou de technologie in ieder geval al een stuk toegankelijker maken. En wie weet bouwt Microsoft straks een Surface tablet met ingebouwde Kinect én deze technologie. Hebben ze nóg een trucje dat de iPad niet heeft! 😉