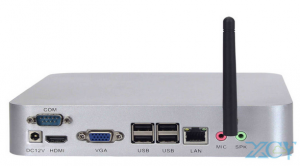 Via Liliputing werd ik gewezen op een op het eerste oog interessant aanbod bij AliExpress. Voor minder dan $200 worden daar mini-PC's aangeboden.
Bijvoorbeeld, voor zo'n €150 euro (incl. verzendkosten, maar exclusief de BTW die je nog betaald als je hem laat opsturen) krijg je een systeem met een Intel Celeron C1037U 1.8Ghz, 2GB intern geheugen, 8GB SSD opslag, een aantal USB-poorten, HDMI, netwerkaansluiting en Wifi.
Waarom zou je voor zo'n mini-PC kiezen? Bijvoorbeeld in plaats van een Raspberry Pi?
Dat zal er een beetje vanaf hangen. Je krijgt meer geheugen, een snellere processor én je kunt Windows draaien als je wilt. Maar of je dat wilt hangt natuurlijk weer van de beoogde toepassing af. Als je alleen XBMC wilt draaien om er films mee op je TV te bekijken, dan is dat niet nodig. Dat werkt prima ook op Debian zonder de overhead van een desktop (XBMC zelf is natuurlijk wel grafisch).
Ik zou me kunnen voorstellen dat ik hem aan mijn Tacx zou hangen. De software daarvoor is alleen voor Windows beschikbaar (dom, ik weet het, maar daar kan ik niets aan veranderen). Maar daar zou ik dan juist weer de vraag hebben of deze mini-PC dat allemaal wel 'trekt'.
Al met al doet het toch wel heel erg denken aan dit aanbod uit 2009. Het geheugen is verdubbeld, de harde schijf vervangen door een (veel kleinere) SSD en er is bijna de helft van de prijs af. Maar de conclusie blijft hetzelfde: leuk voor licht werk, niet voor zwaar rekenwerk. En als knutselmachine? Als je een GPIO nodig hebt, kun je beter bij de Raspberry Pi blijven en als die stuk gaat ben je uiteindelijk toch nóg een stuk minder duur uit.