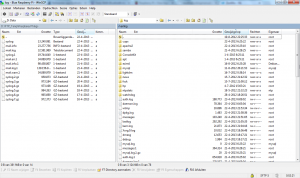 Problemen zijn geen probleem totdat ze een probleem worden. Dat klinkt lekker cryptisch, maar ik zal het toelichten. Zoals je wellicht weet heb ik al een tijdje een Raspberry Pi draaien als apparaat dat elke dag de data uit de omvormer van mijn zonnepanelen doorstuurt naar een online dienst, in dit geval PVOutput.org.
De stappen om dat voor elkaar te krijgen heb ik hier beschreven en er zijn meer mensen die inmiddels op die manier hun data online zetten. Onlangs kreeg ik de vraag of ik iets wist om de logbestanden die aangemaakt werden op de Raspberry Pi te verkleinen. In een aantal gevallen werden ze namelijk heel snel groter en liep het SD-kaartje vol. Zelf had ik dat probleem nog niet gehad, waarschijnlijk deels omdat ik een ruime SD-kaart gebruik.
Gisterenavond dacht ik "toch maar eens even kijken of er ook bij mijn Raspberry Pi wat te vinden is rond de logbestanden". En inderdaad dat bleek het geval. Het grootste logbestand was een bestand genaam mail.log.1 met een omvang van 132MB en er waren er nog een paar die redelijk groot waren (mail.info.1, mail.err.1, mail.warn.1, mail.log waren allemaal meer dan 30MB).
Dus toch maar eens mail.log.1 geopend. En wat bleek. Er kwam steeds één foutmelding terug: Warning: program /usr/sbin/sensible-mda unsafe: No such file or directory, en niet één keer, maar heel erg vaak. En diezelfde foutmelding bleek niet alleen in dat ene bestand maar ook in bijna alle logbestanden voor te komen.
Even zoeken via Google leverde deze pagina op. De remedie was heel simpel: ik moest sensible-mda installeren met:
sudo apt-get update
sudo apt-get install sensible-mda
Daarna heb ik de logbestanden gedownload naar mijn eigen computer, verwijderd op de Raspberry Pi (moest via de commandline) en sindsdien zijn ze weliswaar opnieuw aangemaakt, maar in omvang nu veel kleiner.
Lees verder….