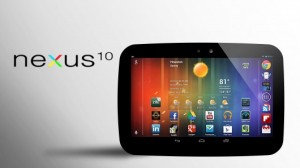 Ik heb zelf geen Nexus, en dit bericht met 50 tips is eigenlijk alleen echt interessant voor mensen die wél al zo'n apparaat hebben. Maar ik moet zeggen dat er ook een paar dingen tussen staan die ook tijdens een aankoopbeslissing al interessant zijn voor mij:
#23 Connect your tablet to a television
#24 Hook up an external keyboard and mouse
#26 Expand your memory
#34 Install tracking software
Android tablets hebben als belangrijk probleem dat het vaak moeilijk is om te achterhalen of je zo'n ding ook aan een beamer kunt hangen. Nou heeft de Nexus 10 ook niet zomaar een optie om hem aan een VGA-beamer aan te sluiten, maar onze vergaderruimtes krijgen binnenkort ook allemaal HDMI-aansluitingen voor de presentatieschermen, dan zou een Nexus 10 net zo eenvoudig aan te sluiten zijn als nu een iPad.
Over het uitbreiden van het geheugen schreef ik gisteren al, maar zoals Willem Karssenberg al schreef in zijn reactie, er zijn een aantal extra opties, goed om te weten.
Ook de mogelijkheid om je Nexus terug te vinden als je hem kwijt bent (of als hij gestolen wordt) is prettig. Net als de mogelijkheid om een extern toetsenbord aan te sluiten. Natuurlijk kan dat ook via bluetooth, maar de mogelijkheid om dat ook via USB te kunnen doen is handig.
En tip #1 Upgrade to the latest version of Android is natuurlijk hét verkoopargument van een Nexus apparaat. Geen gedoe met een leverancier die wel of niet een keer in de toekomst een nieuwe Android versie voor jouw apparaat beschikbaar stelt. Gewoon direct beschikbaar. Dat geldt helaas niet voor de Nexus 10 zelf, die is niet rechtstreeks (alleen via een omweg) in Nederland te krijgen. Nou ja, eerst maar eens afwachten wat de iPad 5 wordt en er schijnt ook weer een nieuwe versie van de Nexus 10 aan te komen. In de tussentijd hou ik het nog even bij mijn 'oude' iPad 2. 😉