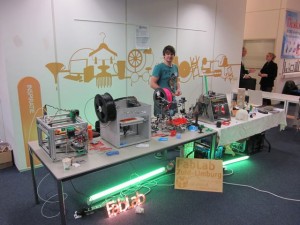 Mocht je nog geen plannen hebben voor de komende kerstvakantie, of wie weet, dan kun je komende zaterdag in Maastricht terecht voor het eerste 3D-printers event van FabLab Zuid-Limburg. Dat is een stichting die een open werkplaats beheert waar iedereen zelf zijn of haar eigen 2D of 3D-product kan (laten) maken. Ze houden zich daar al 2,5 jaar mee bezig en hebben dus de nodige expertise over 3D-printen en printmaterialen opgebouwd. Ze hebben er zelfs een 3D-printer ontworpen die wereldwijd verkocht wordt. Tijdens het event hebben ze zeven verschillende 3D-printers in huis.
Mijn eigen kerstvakantie zit dit jaar vol met de laatste loodjes van mijn promotieonderzoek, dus mij zul je er zaterdag helaas niet vinden. Maar als jij wel tijd en interesse hebt: Je bent zaterdag welkom bij FabLab Zuid-Limburg, Grote Gracht 44, Maastricht.
Het event start om 10 uur en duurt tot 3 uur 's middags met op ieder heel uur een presentatie van 20 minuten. Toegang is gratis, aanmelden wordt op prijs gesteld, via het contactformulier.