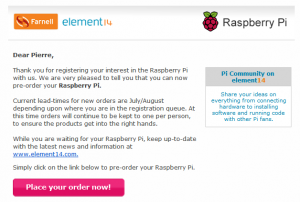 Ik weet niet precies wanneer ik mezelf aangemeld heb voor de wachtrij die zich op 29 februari meteen al om 6 uur 's ochtends vormde voor een Raspberry Pi. Ik begrijp dat de eerste 700 bestellingen binnen de eerste minuut (!) binnen kwamen, tegen de tijd dat ik voorbij kwam lagen de websites al plat. Het is ook maar een klein beetje opschuiven, want de verwachtingen voor wat betreft levertijd hebben ze het nu over juli of augustus.
Nou ja, dan heb ik nog even tijd om te ontdekken wat er niet helemaal goed werkt met het exporteren van data uit Sunny Explorer (zie ook dit bericht).
Ik heb nu tijdelijk de eeePC ingezet. Die wordt (als het goed gaat, morgenvroeg weet ik het) nu elke dag om 8 uur uit zijn slaap gehaald, dan wordt de data even opgehaald uit de converter en dan weer in slaap gezet. Daarvoor gebruik ik dit programma (niet gratis, maar 30 dagen testversie om te zien of het goed werkt). Wordt dus nog vervolgd.
p.s. Ik mocht er maar één "bestellen", op zich wel logisch in dit stadium waar ze nog lang niet aan de vraag kunnen voldoen.