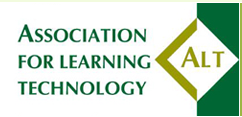 It makes only sense that I spend my last post about ALT-C 2011 on the final keynote and final session of the conference. And, although I do understand some of the remarks I've heard about the keynote by John Naughton (how cool is it to have your own Wikipedia page?), I did enjoy it. Yes, it was scripted and he read it from his iPad without using any other media (no video, no graphics, not even a PowerPoint slide with his name on it). And yes, I knew about how the music industry completely missed the boat during the rise of the internet and I knew about Craigslist and what it did to the newspaper industry.
But at the end of a conference like ALT-C it is nice to just hear those stories again and just think about them. And even though we all are involved in innovative projects, trying to improve our organisations using ICT, trying to get students involved in the educational process, it might just be that the future is there and we simply don't see it yet.

Personally I can't wait for something really disruptive to happen to the educational system. Please do it while I'm still around and not in 50 years or so. It would be great to see our educational system change in a way that we couldn't have imagined before.
Until then, we'll just have to do with the gradual changes and improvements that we achieve now. ALT-C 2011 hasn't shown me any disruptive developments. Still, it was an interesting conference, worth attending. ALT-C 2012 will take place between 11 and 13 September 2012 at the University of Manchester. Theme of next years conference will be "a confrontation with reality".
I don't know if I'll be in Manchester, that always depends on the available funds, but I did enjoy being in Leeds. Thanks to everyone who made this years conference possible!