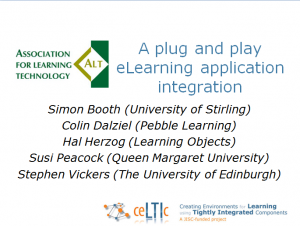 Simon Booth from the University of Stirling and Colin Dalziel from Pebble Learning gave an overview of the use of LTI as part of the ceLTIc project. LTI stands for Learning Tool Interoperability and is a mechanism with which it should be easier to connect different systems. For example, you have Moodle as your VLE and want to use PeddelPad. Through the LTI support available in both systems, you can easily set up a link between the two tools, provide students with single sign-on and eliminate the need for them to have account for each and every system. And the best thing, both from an administrative point of view, and from a system developer point of view, is that that connection can just as easily be made from say Blackboard to PeddlePad, because Blackboard also supports that LTI specification.

Luckily for us, Simon and Colin didn't just try to explain us how/that it worked, but demonstrated LTI working in the above mentioned combination. That always sells the point much better.
As I understood it, the current LTI 1.0 specification still is pretty much of a one-way communication method, where the user is sent off to the other application, lacking for example error detection in case the receiving end isn't there (system offline at the specific moment) or options to sent results back to the sending system. So let's hope we'll see implementations of the "full LTI" in the near future.