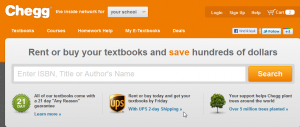 Ik ben er nog niet helemaal uit of dit nou een goed ding of een slecht ding is. Maar ik vind het in ieder geval inventief. Chegg, een op het onderwijs gerichte boekenverkoper in de VS heeft namelijk iets slims bedacht. Als je via de site een boek op papier besteld (want ja, dat doen veel mensen nog), dan kun je voor $1,99 voor een periode van 7 dagen toegang tot de eBook-versie van dat boek bestellen (het aanbod is nog niet voor alle boeken beschikbaar). Dat betekent dus dat je meteen in het boek kunt beginnen met lezen. Het heet dan ook heel toepasselijk "Read while you wait".
Je kunt de optie alleen er bij kopen als je het boek op papier koopt. Logisch ook wel, als je graag elektronisch wilt lezen dan zul je, indien aanwezig, de eBook versie moeten kopen. En dan voor een bedrag dat meestal flink hoger ligt dan die $1,99.
Ik zou wel eens willen horen hoeveel studenten er gebruik van maken. Als ik nog boeken op papier zou willen hebben, dan zou dit voor mij in ieder geval wel een optie zijn. Dan hoefde ik niet eerst een paar dagen te wachten totdat er een boek aan kwam, maar zou ik meteen kunnen starten met lezen/leren.
(getipt door Mashable)